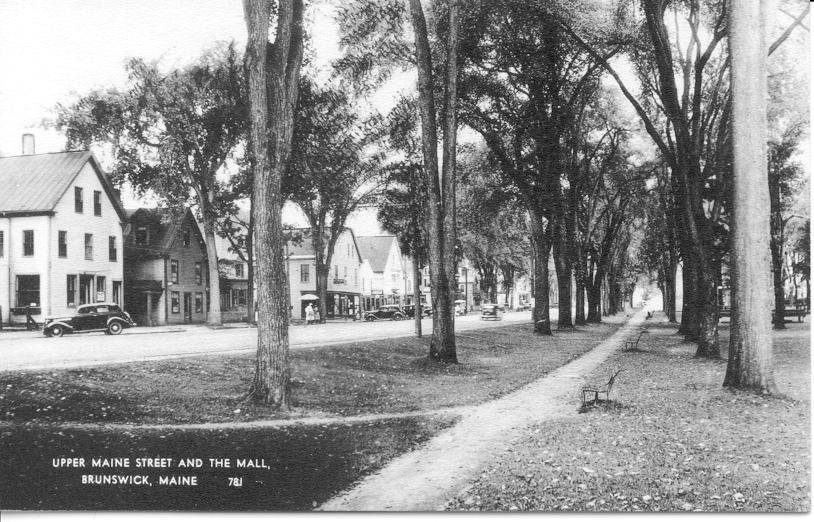 The Brunswick history series continues on three April Saturdays in the
Morrell Meeting Room
.
April 7th

, Frank Connors will give a talk entitled "A Walk Down Maine Street, circa 1940".

10:00 A.M.
The second in the Curtis Memorial Library series of Brunswick Area History talks features Frank Connors with his 91-year old father-in-law, Norman Marriner.
Brunswick's Maine Street has often been called Maine's widest, and, sometimes busiest street. In the early 1940s there was a mix of new cars, old horses and drafty street cars. There were businesses like Abelon's Little White Store, W.T. Grant's, F.W. Woolworth's, Meserve's Apothecary, and the Jenny Filling Station, where you could buy gasoline for a quarter, and still get your oil checked.
Join this interactive discussion, as local historian Frank Connors teams with his father-in-law, 91-year old Topsham native Norman Marriner, for a walk along the street you won't soon forget. This is also an opportunity for the audience to join the dialog by sharing their own photographs and memories of the old days.
Two more illustrated talks are planned in April:
April 14th

Richard Snow's talk is titled "Birch Island: A Historical Glimpse of One Gem of Middle Bay".

2:00 P.M.




April 28th

Fire Chief Clark Labbe's talk is titled "What the Blazes: a History of Fires, Firefighters and Equipment in Brunswick" .

10:00 A.M.
All speakers are authorities on their particular topics and the series will be fully illustrated with maps and photos. Each program will be an hour in length and video will be recorded library for broadcast and borrowing from the library. Capturing the presentations on digital video is made possible by a grant to Curtis Memorial Library from the Alfred M. Senter Fund. For more information, please call the library, 725-5242 or visit www.curtislibrarary.com.